by Dave from The Longest Way Home ~ March 3rd, 2016. Updated on February 9th, 2017. Published in:
Travel blog
»
Nepal
.
 The evolution of travel guidebooks continues (updated 2017)
The second and latest edition of my Kathmandu Valley Guidebook in my Nepal guidebook collection has been published and updated for 2017. Unlike my guidebook to Kathmandu city, this guidebook is for the entire Kathmandu Valley region.
The Nepali tourism board are encouraging tourists to come back which will help Nepal recover. And, I agree. Right now it's the start of the first peak season. Come September, October, November and December you'll get the best weather and the prime season. This guidebook will help you plan ahead!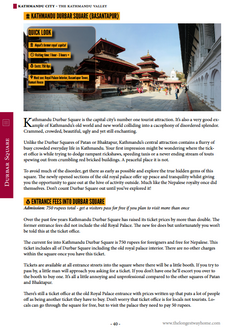 There is no other place like the Kathmandu Valley on earth. It deserves a dedicated guidebook. Not only that but it deserves a guidebook that everyone from this era can make the most of. With Nepal's electricity rationing and lack of good WiFi along with bad mobile apps don't get the job done.
The latest print travel guides are not great. I've read them. Some contain no post-earthquake information others are already outdated and simply don't cover the Kathmandu Valley very well. This guidebook already covers earthquake affected temples and areas.
My guidebook is fully up to date for 2017, printable and best of all it works beautifully on your tablet or mobile device without WiFi.
This is something I've wanted for years. No one stepped up to do it until now with the publication of my second edition guidebook to the Kathmandu Valley.
What is so special about the Kathmandu Valley?
The Kathmandu Valley contains the majority of Nepal's extraordinary, diverse and unique heritage. It is a place of royal kingdoms whose ancient cities and architecture are still standing today as they did hundreds of years ago. I've included them all here for you.
Kathmandu city: From Kathmandu's grand royal palaces and fascinating backstreets to the first mystical building ever created that still overlooks the whole valley which was once a lake. This capital city also contains the most important Buddhist stupa outside of Tibet.
What many people don't realize is that there's more to the Kathmandu Valley than just the capital … and it's all very easy to see – once you know how.
Patan city: Only 30 minutes away from the capital sits the former royal capital and city of artists known as Patan. It's one of the most unexplored royal cities in the valley. The amazing Golden Temple in the north of the city is unlike any other temple courtyard in Asia. Couple this with a beautiful Durbar Square, a temple of 1001 Buddhas, a Living Goddess and a host of centuries old monasteries and you have just touched the surface of this great city.
Bhaktapur city:  Perhaps Nepal's most beautiful city. Bhaktapur is my favorite place in the Kathmandu Valley. This former royal capital city has none of the congestion or traffic that Kathmandu has. It makes for a wonderful place to stay. Filled with majestic royal squares, the crowning jewel is Durbar Square. However it's Taumadhi Tole and Dattatreya Square in the east of Bhaktapur that really shows of this city's uniqueness. Bhaktapur is like a living museum with some of friendliest people in Nepal. It remains virtually untouched by the earthquakes.
Nagarkot or Dhulikhel? Let me go on the record here and say that I whole hearedly recommend Dhulikhel over Nagarkot at the moment in terms of green belts in the valley, day hikes and mountain views. Nagarkot has always been pushed heavily by big tour operators and other hotels. The truth of the matter is that many hotels were badly hit by the earthquake. Yes, there are plenty available and the roads are fine. But Dhulikhel was virtually untouched by the earthquake, has temples, day hikes and is much better value. In either case both locations are fully updated in my latest guidebook.
Panauti: Never heard of this place? It's the shining gem of Kathmandu Valley. Virtually untouched by the earthquake it's a pristine Newari town that, while smaller, outdoes Bhaktapur in terms of the real old Kathmandu authenticity. It's a great day trip or overnight stay easily accessible from Kathmandu city. If you look at other guidebooks they barely give it a mention. I've dedicated an entire chapter to it because it won't let you down if you are looking for the last vibes of cultural heritage in the Kathmandu Valley!
And these are just the highlights of the Kathmandu Valley … I've included Thimi, Kritipur plus all your old time favourites like Swayambhunath, Boudhanth, Changu Narayan and so much more.
Why is this guidebook to the Kathmandu Valley the best?
As you've just read, there's more to the Kathmandu Valley than just the capital city's collection of some of the most exquisite buildings, squares and palaces in the world. Though I do detail them all for you including exclusive Heritage Walks!
These prized buildings are interwoven with fascinating but congested and confusing streets. I'll show you how to navigate them with ease and find every temple as they've all been photographed to show you where they are (over 500 photos!)
From Patan's prized Durbar square sunsets to the magnificent golden temple to the hidden treasures of the southern city and the blessings of a Living Goddess. No other guidebook shows you so much. Mine does.
Reap the rewards of a visit or stay in Bhaktapur with photographs of every temple at your fingertips.  Know exactly what you are looking at 100% of the time.
Easily discover the hidden gems of the Kathmandu Valley many people never get to see like Thimi (the middle kingdom) or the pristine and beautiful Panauti.
Stop off at the world's tallest statue of Shiva or go for a hike in Dhulikhel – save time and money by following my dedicated itinerary to the Kathmandu Valley.
And there's so much more …
Every temple photographed and linked to its location on a map (49 maps)
Earthquake information including destroyed temples
Interactive digital maps (click a photo or location & it will zoom to show you)
Cross compatibility from being printable to digital (laptop, PC, tablet, or mobile – no internet needed)
Earthquake affected temples listed on maps and written about
Interactive elements (no more endless swiping on mobile or tablet)
The digital version works completely offline
Easy to follow Heritage Walks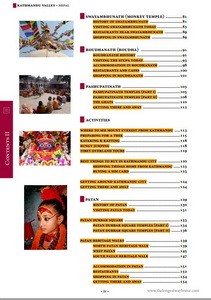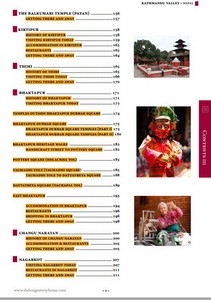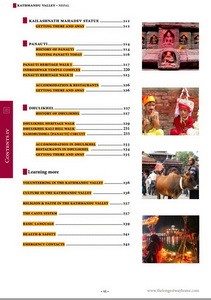 Table of contents: + 243 pages, 49 color maps over 500 color photos
What else is inside this guidebook for you:
All areas of Kathmandu city from Thamel, Paknajol, the old southern city, eastern city, Freak street and the markets, Boudhanath, Pashupatinath, Swayambhunath (monkey temple)
Patan Durbar Square, the northern, western and southern parts of old city
Inside and outside Bhaktapur Durbar square and west to east and back again
Visit Kailashnath Mahadev the world's tallest Shiva statue
Panauti's exquisite temples and stunningly well preserved old streets
Thimi, one of the most overlooked cities in Kathmandu, with it's amazingly unique heritage
Kritipur built right over Kathmandu on a huge rocky outcrop and only a 25 minute bus trip away
Trek in Nagarkot to see the Himalayan mountain range
Discover the real Dhulikhel with temples and green belt day hikes
Exclusive courtyard diagrams showing you were everything is
Personally visited and reviewed accommodation for all budgets (high-end, mid and budget)
Personally visited and reviewed restaurants for all budgets
How, what and where to shop for souvenirs, jewelry and more in Kathmandu
Lists & contact details of recommended courier companies
Transportation details (how to get around)
Up to date visa information and applications
Trekking preparation
Lists & contact details of recommended trekking agencies
How to travel to Tibet overland (includes a list of tour operators)
Volunteer in the Kathmandu Valley
Cultures of the Kathmandu Valley
Religion & faith in the Kathmandu Valley
Understand the caste system in Nepal
Basic Nepalese language
New compressed file takes up less space
49 zoom-in color maps and over 243 pages of fresh original content
Easy to follow content that shows and gets you where you need to go
Yes, this guidebook contains all of my Kathmandu city guidebook plus the Bhaktapur guidebook, Patan guidebook, plus Thimi, Kritpur, Panauti and a whole lot more including 2015 earthquake updates.
This guidebook is the complete package to the Kathmandu Valley!
great on an iPad, iPhone, big screen, Android tablet, phone and in print!
An original well researched guidebook to the Kathmandu Valley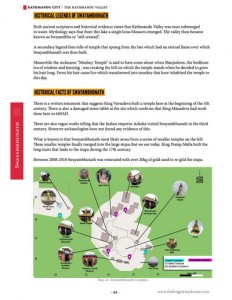 Sometimes when you buy a guidebook online, you end up getting some scraped together word document containing complete pages from WikiTravel/Voyage. This is not the case here. I've written, mapped, photographed and created every page in this book myself.
It is 100% genuine and original premium content.
In Kathmandu city alone, I personally visited and reviewed over 220 hotels, guesthouses and everything in-between. I did the same in Patan, Bhaktapur. Panauti, Dhulikhel, Nagargot and many more.
It was an intensely physical and mentally exhausting task
Why did I visit so many types of accommodation instead of just copying them from a hotel booking site or another guidebook? The answer is simple.
I wanted to see the accommodation for myself and bring you the best
Out of all those hotels I narrowed them down to visitors looking for high-end stays (USD $100+), boutique accommodation seekers ($60), mid-level accommodation ($30) and budget backpacker accommodation ($4+). I took out the worst, the long since gone and the uninhabitable. Leaving you with my recommended places to stay. This includes contact details, prices and even easy booking options!
I've also placed every hotel correctly on a large scale-able map for you – something even the booking sites keep getting wrong!
Several hotels here destroyed in the Kathmandu Valley after the 2015 earthquake, I've removed them so you can save time in selecting one.
On top of that everything reviewed in this book was paid for by me. Not a single guest house, hotel, restaurant, ticket office or travel agent knew they were being reviewed. This guidebook brings you 100% genuine reviews and facts without exception so you will know exactly what to expect.
Includes earthquake 2015 information
New pages have been added with information on the 2015 earthquake that struck Nepal. While most of the great temples have survived some perished.
Each temple is listed on the map and you will clearly see what was destroyed with information about what was once there and on all the temples that have survived.
This is the first guidebook to Kathmandu updated since the earthquakes.
A guidebook written by someone who wanted to know about these places too
As you know I have a passion for Nepal. I struggled for years with outdated guidebooks and dubious online reviews.
I never understood why they kept writing things like "you'll only find upscale accommodation, in expensive Bhaktapur." It's simply not true!
The fact is for USD$10 I stayed in a large hotel with a private bathroom and a balcony window overlooking the beautiful city of Panauti.
I wanted to know things about the interior courtyards in Kathmandu's Durbar Square – but couldn't find it anywhere! So I researched, visited, photographed, mapped and wrote it all out here myself – including newly opened never before seen sections.
It's the digital age and with that independent publishers can now bring you what's been lacking in guidebooks for so long. My online guides to Nepal speak for themselves. Now you can take that trust and get a book that you can own and take with you to the Kathmandu Valley!
This is Kathmandu Valley's best guidebook
This guidebook has been written by a traveler, tested by other travelers LIVE on the streets and cities of the Kathmandu Valley in 2017 and is now available to everyone worldwide.
If you are going to be in the Kathmandu Valley then this is the best guidebook you can have.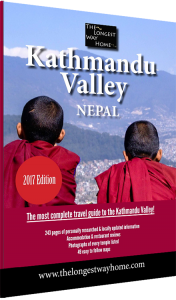 Buy this on Selz
(Email/RSS subscribers please click here to purchase)
There's a personal 100% free update guarantee with every copy.  If you buy the book and are not traveling for the next 6 months or even a year from purchase then just drop me an email before you fly out and I'll send you a free updated copy. Everyone who bought a previous edition should check their emails for your free updated copy which went out a few days ago! More details on the guidebook.
---
---