by Dave from The Longest Way Home ~ October 7th, 2016. Updated on January 13th, 2019. Published in:
Travel blog
»
Nepal
.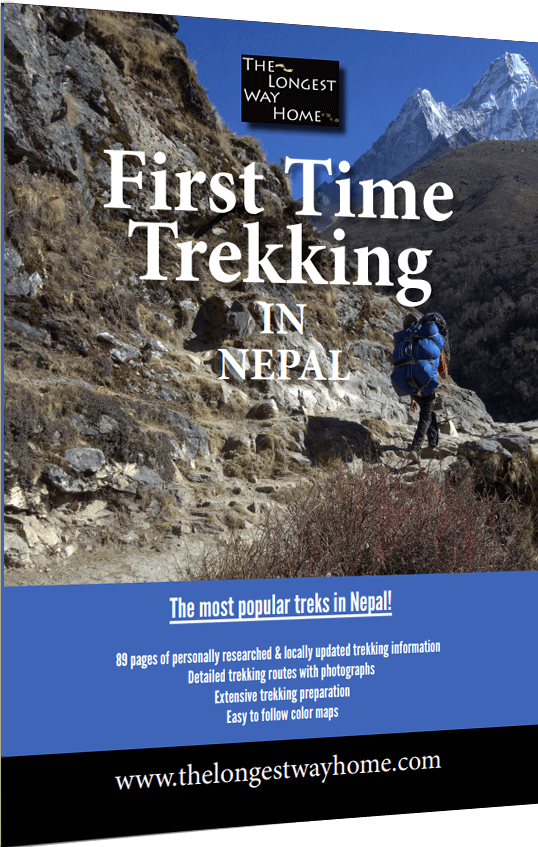 The best guidebook for first time trekkers in Nepal (2019)
Nearly five years ago I began publishing guidebooks to Nepal because I truly wanted to deliver something that would help people get the most out of their trip to this great country. I did this because I found the current crop of big publisher guidebooks to Nepal were just not up to scratch.
The feedback and reviews about my guidebooks has been overwhelmingly positive – so I went ahead with my most ambitious book yet.
This year (2019) I updated my latest guidebook, Trekking in Nepal, which has a clear focus on trekking Nepal's epic trails for those who have never been trekking before.
This book has been a massive undertaking over the past few years and currently with keeping it updated in lieu of putting together teams of guides, trekkers, porters and myself who have gone out to obtain, review and write the latest information in Nepal. This is the only guidebook with active teams constantly monitoring treks throughout the year!
Written to help you get the most out of your trek. Fully updated with the most popular treks for 2019 with extensive preparation chapters, how and where to find a guide, when to go plus complete treks written with a day-to-day walk-through of each trek including photographs and maps to show you the way.
I've also taken one of the best features from my other guidebooks and included them in this trekking guidebook – scalable maps! In other words you can zoom right in on a trail. No other guidebook in the world has this.
Why is this guidebook to trekking in Nepal better than the other brands?
Trekking in Nepal is one of the country's greatest assets and a once-in-a-lifetime trip for visitors. There have been countless guidebooks written about epic trekking in the Himalayas. This guidebook is the most up-to-date in the world.
Most guidebooks write about a trail telling you what lies ahead and how it looks. This guidebook tells you where you are, what's ahead and shows you a photograph from everyday on the trek – so you really will know what to expect!
Maps are the bane of most trekking guidebooks. It certainly was one of the most time consuming aspects of writing this one. The maps here were created using GPS waypoints, real time trekking guides, trekkers along with me in groups and as individuals. The maps in this book are scalable – meaning you can zoom right in! 
These are just some of the things that current guidebooks fail to realise. They treat trekking almost like you should already know where and what you are doing at all times. This guidebook lets you decide, shows you the way with comprehensive descriptions, photographs and maps.
Most importantly, lots has happened recently in Nepal from the earthquake in 2015 to the landslides on Manaslu trek in 2016, Langtang trekkers going missing in late 2017 and the surprise increase in trekking fees during 2018 – I've purposely taken Langtang out of the book due to what I believe are not safe routes at the moment.
I don't blame big brand guidebooks for not being able to keep things up-to-date. They can't budget for it anymore. However, I can as I am in country, understand it and have teams in place who go out trekking who keep me updated. You really can't get better than that!
You deserve better than dated, out of touch big brand guidebooks publishing in cookie cutter format that have lost touch with the essence of trekking
I've written an independent guidebook that delivers what trekkers to Nepal actually need. Not what a company has time to squeeze into their deadlines and profit margins. My guidebook to trekking in Nepal delivers to you the best treks as they should be seen and trekked.
That's one of the beauties in this modern age of publishing. Being independent means you can actually give people what they need and what they want – to make the most out of their trek.
The feedback to my trekking guidebook has been overwhelmingly positive:
"This is so well laid out, easy to follow and just what we needed for our Everest Base Camp Trek"

-Holly, UK.
What this guidebook does for you:
Every trek contains photographs for each day which are linked to their location on a map
Interactive digital maps (click a photo or location & it will zoom to show you)
Cross compatibility from being printable to digital (laptop, PC, tablet, or mobile)
Interactive elements (no more endless swiping on mobile or tablet)
Huge preparation, clothing, budget & guide finding chapters
The digital version works completely offline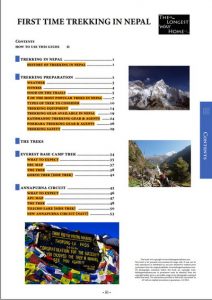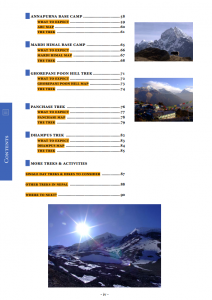 Table of contents: + 89 pages, 17 color maps over 130 color photos
What's inside the guidebook for you:
All treks covered include Everest Base Camp, Annapurna Circuit, Annapurna Base Camp, Poon Hill / Ghorepani, Dhampus, Panchase, Mardi Himal
Popular side treks to Gokyo (Everest) & Tilicho Lake (Annapurna)
Day-by-day written guides, including daily photographs of each trek & what to expect
Extensive trekking preparation from when to go, budget & where to find a guide
Save money with complete chapters on equipment including items you will & won't need
Trekking agencies listed for all treks including how to find a local guide
Full color scalable maps for every trek with the routes clearly planned out
Maps of where to find guides & trekking gear in Kathmandu or Pokhara
89 color pages of personally researched & locally updated information
An original well researched trekking guidebook
Sometimes when you buy a guidebook online you end up getting some scraped together word document containing complete pages from WikiTravel/Voyage. This is not the case here. I've written, mapped, photographed and created every page in this book myself.
I've been on these treks myself and know what they are like to accomplish in different seasons of the year. I also keep them updated via teams of professional guides who take international trekkers on them throughout the year.
This was a huge project to set up … but it delivers something no other book can
Treks differ depending on the time of year. As an example winter treks are often closed while spring treks are washed out. I cover all seasons including the best.
Moreover I've been on these treks myself and know the "lay of the land"
Did you know that many trekking companies continuously push the Poon Hill trek because of the commissions they get from guesthouses? This is not really a problem, but it does mean that as someone looking for a great trekking experience you might be missing out on other treks like Mardi Himal.
I've also updated all the maps with GPS and physical cross references to ensure everything is where it should be!
Did you know that every year there are mild variations on many trekking trails due to the extreme weather conditions many trails experience during the previous year. e.g., flooding, landslides etc,. Furthermore, this guidebook brings you 100% genuine trekking agency reviews and facts without exception so you will know exactly what to expect.
I don't and have never accepted sponsored treks, hotel stays, meals or tours. Everything I write about I pay for everything myself so you the reader can get the most honest reviews.
You're in good hands with this book
If you've been following me along here over the past 14 years then you know my modus operandi when it comes to writing. It's original, helpful, factual, truthful and honest every time.
I've listened to everyone's feedback over the years and brought you the best free Nepal guides online. I've brought the best of this and a whole lot more to my Nepal guidebooks.
These great new generation of guidebooks are accessible to everyone helping to make travel to Nepal so much better.
If you are on the brink of buying this book then rest assured you won't be disappointed. If you know anyone thinking about trekking in Nepal email them a link to this page.
This Trekking in Nepal guidebook can be yours to own
This guidebook has been written by a trekker, tested by other trekkers LIVE on the trails of Nepal in 2018 with the very latest trekking fees and permit prices updated and is now available to everyone worldwide.
If you are going trekking in Nepal then this is the best guidebook you can have.
(Email/RSS subscribers or for more buying options please click here)
There's a personal 100% free update guarantee with every copy. If you buy the book and are not traveling for the next 6 months or even a year from purchase then just drop me an email before you fly out and I'll send you a free updated copy. More details on the guidebook.
---
---