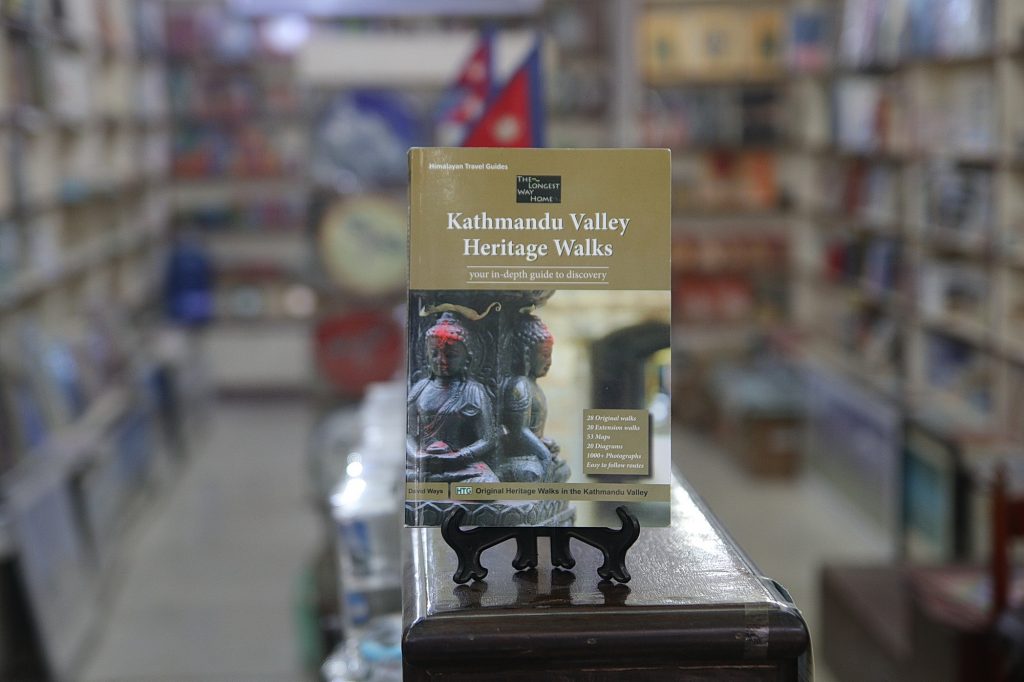 Kathmandu Valley Heritage Walks in paperback (second edition)
I'm delighted to announce that my first of its kind Kathmandu Valley Heritage Walks book is now available in print internationally! It's been an epic 10+ year project that not even the pandemic could stop.  Please note: If you bought the first edition of this book, then the second is basically the same but due to the pandemic shipping stopped in Nepal. Now, after a lot of hard work, it's available internationally once again – more information on the second edition below.
Both the digital and paper editions are virtually identical. But this paperback version is for the ages … literally. So, it was important to have it available again after the pandemic stopped all book exports from Nepal. There's simply no other book like this on the planet. The first edition was published in paperback in 2019. This new edition includes renovation updates all the way up to 2021. Again, if you bought the first edition already  (thank you) there's no real need to buy this edition (unless you'd like to support both my own work and the Nepali who also worked on this book in Nepal).  The main purpose of this edition aside from the 2019-2021 updates is to get it onto the international market again following the pandemic.
Just like the first edition this book goes far beyond anything else out there.
The first thing local people in Kathmandu say when they read it is …. "I never knew this place even existed!"
The second thing locals say is they want it for their children to learn about Kathmandu Valley.
Both of these things are very rewarding to hear. For people visiting Nepal, this book will bring you to places not written about anywhere else or in such detail or created in a way to make it so easy to follow.
Discover the undiscovered and rediscover heritage in Kathmandu
With 28 original walks in this paperback book – every temple, shrine and monument has been photographed with personally researched details, background information and clearly mapped.
Travel agents offering walking heritage tours around Kathmandu are terrible. I've been on them. They are a complete let down which revisit the same old top 5 places. The reason for this is the guides are not properly trained. It's as simple as that. The exception being Bhaktapur which actually ran a training course last year – I know this as I was there during the training and helped them.
The best way to see Kathmandu's heritage is to do it yourself on your own time.
From 30 minute walks to 1.5 hour walks each heritage walk in this book is designed for newcomers all the way to long-standing visitors and heritage lovers of Kathmandu.
Moreover for those that really want to see more … there's an additional 20 extension walks which are all linked together. This has never been done before in Nepal.
These links and extensions are unique. You will not find them anywhere else. They help you to move around Kathmandu city without retracing your steps. They bring you from one part of the city to the next walk effortlessly.
I wrote this book so you don't walk more than 5 minutes without seeing something special. By all means if you want a more widespread travel book for the entire country then my guidebook to Nepal is for you. If you want a close up look at heritage walks in Kathmandu – then this book is for you!
Why do I want to see Kathmandu's heritage?
Let me boldly clear. Kathmandu Valley has 7 UNESCO World Heritage sites in the Kathmandu Valley alone. I am not in the least bit impressed with this statistic. Why?
Throughout my travels I have seen UNESCO World Heritage sites unbalance local communities and culture around the world. By getting listed the sites become tourism "must see" destinations which results in profit making tourism businesses to overburden the areas. They become crowded, expensive, and tired.
Kathmandu is not an exception. Kathmandu Durbar Square, Bhaktapur Durbar Square, Patan Durbar Square, Boudhanath, Swayambunath and Pashupatinath are all UNESCO World Heritage Sites – they all have hefty entrance tickets and are overwhelmed with touts and often rundown. It's a terrible shame though the sites themselves are indeed stunning. It's the atmosphere, maintenance and running of these places which is the issue.
The answer? Explore equally impressive places not on UNESCO's list with this book on Kathmandu Valley Heritage Walks. Moreover, you will also get to explore the above heritage sites but with a difference. I've gone behind the main attractions and discovered hidden areas that not even the tour guides or UNESCO know about.
Let's go further. With a total of 48 walks (including extensions) you have 41 more sites to explore throughout the Kathmandu Valley. The vast majority of them don't have entrance fees. They are not crowded with tourists or tours. Most are looked after by local communities. You'll have 1000+ year old courtyards all to yourself. You'll discover breathtaking buildings and a hidden history that few know about. The walks are designed to be within an easy walking distance to each other!
Why do you need a dedicated book to see heritage in Kathmandu?
I've written several heritage walks in my Nepal guidebooks which people have loved. This book is specifically dedicated to heritage walks which are all linked together by foot for the first time. It expands the current ones in my Nepal guidebook and introduces many more.
Did you know the official cost of a personal city guide in Kathmandu is USD $50! Yes, a city guide in Nepal is more expensive than a trekking guide. The official prices changed in late 2018. What's more, the guides only have a half-day of training and most do not know about Newari heritage which the vast of majority of Kathmandu is made up of.
If you opt to not hire an official guide and "hire a street guide" they will not be insured and local authorities are cracking down on unregistered guides. It's a vicious circle. The other option is hire a package tour and be driven around Kathmandu. Of all the options the latter is the worst. Driving tours only visit the main squares, you have hidden extras to pay plus entrance tickets all for a whistle stop visit. Moreover, you won't get to meet or support any local people.
So, the best option is to do it yourself – which gets you out into the local markets and streets where you can directly help local people by purchasing their products directly (if you want) during your walk.
There's no favoritism in this book. If you see something like or need a bottle of water, you'll be passing plenty of local places to do so. Unlike the tours, where you'll be taken to the friend of the friends store. Or worse yet, taken to the tour operators own store. With this book, you are in complete control.
If you look at other guidebooks and compare them to my Nepal guidebook you immediately see the difference. Other books dedicate short paragraphs with confusing and dated directions. Now, imagine my guidebook but with even more heritage photographs, maps, diagrams and information. All routes are clearly mapped out with directions, extension walks and linked walks.
This book is like no other and the mold is broken so you can have this in paperback forever.
Maps are an important aspect in this book as I know what confusing guidebook maps are like. I've created the most detailed and easy to follow original maps. Likewise courtyard diagrams. Using GPS waypoints I've marked out each and every building, shrine and temple listed. Each diagram was drawn by me and lists in detail the places to see in courtyards and streets.
Like those already in the know, this book like my others is the most up-to-date book on heritage that you can find. It's also the only dedicated heritage guide book for the Kathmandu Valley.
The research in this book was staggering. From the late Mary Slusser and Lain Singh Bangdel to today's historians John Child, Gotz Hagmuller and Niels Gutschow. I revisited the first drawings of Kathmandu by Henry Ambrose and Father Giuseppe. Most importantly local Nepali knowledge helped to fill in the gaps for previously undocumented sites across Kathmandu.
A lot of local knowledge is disappearing alongside the last generations in Kathmandu. Since the 2015 earthquake there's been an about turn in Nepal focusing on technology, concrete and the future rather than the past.
This book can not only guide you through heritage but it also acts as a historic document on Nepal's remaining heritage today.
Why do I need a print version of this book?
I really like the digital version of this book. It's lightweight (your device), the maps can be zoomed in and I can use the find and search options. However, many people who enjoy heritage also enjoy using paper books. Just like the latest edition Nepal guidebook this year, I wanted the Kathmandu Valley Heritage Walks book to be something special in print. But the pandemic hampered us as international postage from Nepal was halted. This book will continue to be printed in Nepal by local workers at Himalayan Travel Guides. Moreover the book contains maps by the very same local Nepali people who are paid full salaries during the pandemic.
Working with the publisher (Himalayan Travel Guides) we chose an international printing press and distributer so our hard work can reach an international readership again. Our only other choice was to wait for the Nepali government and airlines to open cargo flights up again – which still hasn't happened. So I took the initiative just like my Nepal guidebook to take the distribution aspect out of it while still retaining the employment of the Nepali designers, layout artists, and indeed printing presses for national sales.
It means that the book is still 372 pages and still lightweight but strong enough to survive the streets of Kathmandu! How light? The book only weighs 400 grams.
The first carbon positive guidebook!
It's also my first official book that kickstarted my carbon positive book project. For every book purchased a tree will be planted. One tree makes 30 books. Each book also practices near-zero waste, zero returns, and each copy orders is individually printed which means no wastage. This is now proudly displayed on the back of each book.
This has been a work in progress over the past few months. I've been in touch with several tree planting organizations in Nepal, and am proud to say that I've already donated to tree planting.  As you may know, not all organizations are created equal – especially in Nepal. I like to research and make sure everything is above board with all my books and projects. As such I'm following through on the tree planting to make sure everything is in order and I'll write separately about it later in the year once the seedlings are in the ground and growing.
A detailed paperback book on heritage walks like no other
There's a great table of contents that clearly shows you each walk. There's a detailed index for looking up specific sites and a glossary to help you know the most common sculptures. There's also a Nepali language section and a first ever Newari language section – because the Newari are the people of Kathmandu who you will meet on these walks! It's details like these that make this book a premium and premier paperback!
As I wrote earlier my own maps are GPS based but just like my Nepal book there are color maps from Himalayan Map House included too. So you once again have duel maps. Again, no other book in the world has this system.
Feedback on my Kathmandu Valley Heritage Walks book:
"I'm buying this book for my son so he can finally learn about his city!"

-Amrit, Nepal.
"Definitely the best buy we made in Nepal. We discovered more than we ever thought possible. Great value."

-Jennifer, USA.
What this print edition book does for you:
Every heritage walk is 100% original and contains clear photographs of every temple, shrine & monument on a heritage walk – including on a map so you can know exactly where it is and where you are headed
Detailed maps for every walk & diagrams to give you a highly detailed look at specific places
Lightweight but strong paper (book weighs on 400 grams)
This is the first book in history that links every heritage walk in Kathmandu together for those who want to get around the cities quickly
Original extension walks for those who "must see everything"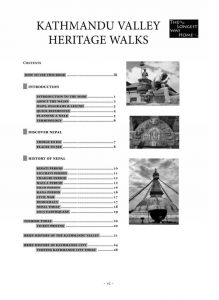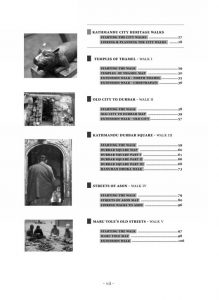 Table of contents: + 372 pages, 58 maps, 20 diagrams over 1000 photos (read the full table of contents here)
What's inside the book:
28 original heritage walks across the Kathmandu Valley including 10 in Kathmandu city plus, Kirtipur, Patan (north, south, east & west), Thimi, Bhaktapur (5 walks), Panauti, Dhulikhel and more
20 original extension walks for those that want to explore everywhere.
A unique "linking" system so you can easily do a walk without wasting time or getting lost
Every walk has been given a difficulty grading (1-3) plus walk distance in KM and average time durations are also listed
Each walk has been specifically created so you can visit other areas of Kathmandu just by doing a heritage walk
Detailed maps and diagrams for every walk with the walking routes clearly marked out
Includes chapters on the history of Kathmandu, Nepali & Newari language plus practicalities to help you get the most out of your walks
372 pages of personally researched & locally updated information
Updated to 2021
I don't and have never accepted sponsored tours, hotel stays, meals or promotions. Everything I write in my books I pay for myself so you the reader can get the most honest view of Nepal.
Discover the real Kathmandu with this book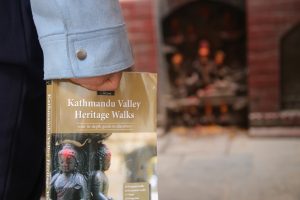 If you've bought my other books or been reading online here with me over the past 15 years then you know my style when it comes to writing both online and in my books. Everything is original, well researched, factual, helpful, enjoyable and honest every time.
My "insider" style guides to Nepal  are written so that you can get the best experience on your trip. I publish the best free Nepal guides online. Following this I then wrote and placed even more information in my Nepal guidebooks.
These are the next generation of guidebooks that help people all over the world to truly enjoy the real Nepal.
This book on heritage walks now proudly stands at the forefront of heritage literature in Kathmandu.
If you are still on the brink about buying this book then rest assured you won't be disappointed.
Where can you get a print copy?
You can order a copy of the Kathmandu Valley Heritage Walks in paperback directly from the printing press right here. Depending on where you live in the world there will be different shipping options from regular mail, to tracked mail to express delivery. For anyone living in areas where the postal service is not so great, I would recommend tracked or express options to make sure you get your copy.
The book is also shipping out to major retailers like Amazon.com, Amazon.co.uk, Barnes & Noble, etc. But it might take a while for the copies to arrive there. Again, the best option is to buy it direct from the printing press on Lulu here.
All books are sent by the printing press itself when you order. Any questions, just send me an email. Unlike other guidebook publishers out there, I'm human, and this is the best book on Kathmandu Valley Heritage Walks in the world!
To celebrate the new edition here's a 15% discount voucher "CONNECT15"  valid until the 4th of June!