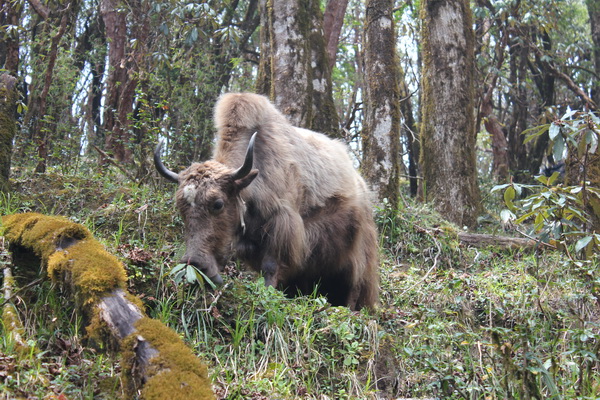 Low camp to Sidhing or Pokhara?
Following on from the previous day's trek I recommend that day five of the Mardi Himal trek takes you from Low Camp to Sidhing. So after base camp on day four go back to Low Camp for the night or even spend the night in High Camp. Then on day five make your way high/ low camp to Sidhing. Then the next day (day six) make your way from Sidhing to Pokhara.
The Sidhing trek down is very reminiscent of a busy village trek. We passed by many villages and rice terraces. It was in many ways one of the more beautiful days of the trek to see such pristine rural farming areas.
Nepal's staple food is rice and although places like The Philippines or Indonesia get rave reviews about rice terraces Nepal's are equally majestic.
Rushing through the Mardi Himal Trek
Many people looking for a 2-3 day trek will try to accomplish the Mardi Himal trek starting in Sidhing and make their way up the very steep forest path to Low Camp. There's a secondary reason for this and it's because of a lack of permit inspection.
Permit free trekking along Mardi Himal is no longer possible
This is now not possible as there is a check-point along the way. But people still take this route to cut down on their days trekking. I don't recommend this as it's a very hard climb all day.
The point of trekking is to enjoy it and not to rush.
Rural end to the Mardi Himal trek
As we descended into villages and rural farmlands we soon made it to a main road. My guide Narayan bypassed much of this urbanization as we literally just cut across the road and down into more rice terraces to a stream.
Here, there was a small flour mill with children playing. Basket weavers working and the odd buffalo grazing. It truly was a full circle trek in terms of diversity.
For those wondering what ever happened to the rushing Russians on the other trek I did to Mardi Himal. Well, they did make it back to Pokhara one day early.
Though the next day their paragliding trip had to be canceled as they got food poisoning the night before … I'm not one to say "what comes around goes around", but let's just say when I heard the news I didn't shed a tear!
The best part of the Mardi Himal Trek
As you might have guessed from my two Mardi Himal Treks I like this trek a lot. From the gentle start with mountainous views to the wonderful thick forest paths. The lush rhododendron forests to the impressive low camp views of Fishtail.
Then the magnificent mountain views from both sides of the ridge overlooking Annapurna Base Camp to making ones way up a challenging ridge to Mardi Himal Base Camp itself.
On the way back the Mardi Himal trek continues to impress with a steep decent though lush forests before opening up into rural farmlands.
Not only is the Mardi Himal trek uncrowded, its scenery and challenges change everyday.
If you are looking for a short trek with epic views and great diversity do give the Mardi Himal trek a look.
Here's my free online trekking guide to Mardi Himal. As always, if you'd like to know my guides details then you can contact me however it would be better if you opted for my find a trekking guide service or if you'd like to get your own guide then my guidebook below which has his and many more details in it.
If you just arrived at this page then here is the full list of the Mardi Himal Base Camp Trek details:
---
Get the best Trekking guide book to Nepal!
---
Liked this page? You'll love my guide book to Trekking in Nepal! It covers over 28 treks in detail including:  Everest Base Camp, Gokyo Ri, Three Passes, Langtang Valley, Gosaikunda, Ganja La, Manaslu, Tsum Valley,  Annapurna Circuit, Annapurna Base Camp, Annapurna North Base Camp, Mardi Himal, Ghorepani Poon Hill, Khopra Danda, Mohare Danda, Muldai, Dhampus,  Panchase, Dhaulagiri, Upper Mustang, Nar Pu, Muktinath & more. Plus popular day hikes including Shivapuri,  and Kaskikot. With day-by-day detail trekking details along with photos of what to expect, extensive preparation chapters, budgets, where to find a trekking guide plus the costs & much more!
It's only guide book to Trekking in Nepal with color maps that you zoom right in with!
The book can be read on tablets, laptops or mobile devices & is printable. It's also available in paperback with full color print. Quite honestly this will help you more than any other guidebook to get the most out of trekking Nepal.