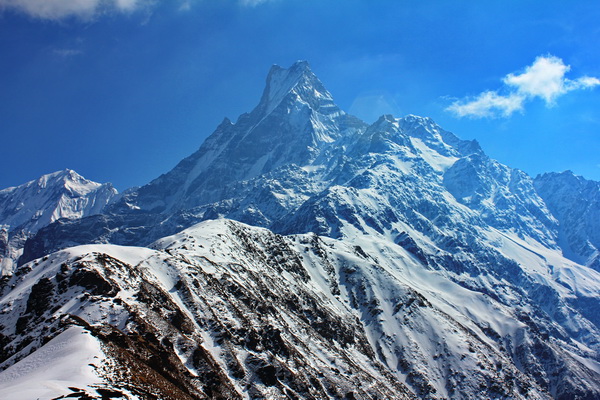 Mardi Himal High Camp to Base Camp
The day started early with a cold frost covering yesterdays hailstones. I like the cold though and after a hearty breakfast of yet more pancakes we set out on the final leg of the ascent on day four of the Mardi Himal trek.
The impressive mountainous view from High Camp was slowly replaced by the rocky tundra along the ridge ahead. One of the Russians elected not to go to base camp for some obscure reason. However a British couple joined us for part of the way but they raced ahead quickly.
We were taking the slow but steady route over an invisible mountain path. Yet another reason I do recommend one takes a trekking guide than go it alone if you've never been trekking before.
Rocky climbs on Mardi Himal
Nothing was too difficult on this ascent but it was not easy either due to slippery ice everywhere. I'm not sure how my guide Narayan navigates the unseen path put he knows this route well and we avoid many a dead-end path.
A large area filled with boulders makes for some scrambling up and over. It's fun but the sun's heat becomes quite dehydrating. A strange thing when all around you is snow, hail and ice. There's plenty of water but when it's cold in the mountain shade it's easy to forget that the sun still remains a forbidding factor during the day.
Snow on the top of the Mardi Himal path
Although we could see it from afar we'd yet to encounter snow on this trek. That was, until we reached the top of the trek en-route to base camp. Here, yesterdays storm had brought fresh snow the previous night.
The views were magnificent. Dark blue sky with the Annapurna Base Camp to one side and Fishtail to the other.
It was here on the way to base camp that the Mardi Himal trek, in my opinion, truly became one of the best treks in Nepal.
We'd overtaken the British couple a little earlier as they took a longer route up. We huffed and puffed through fresh snow on the way to base camp together.
Mardi Himal Base Camp
Last nights snow blocked the path so safety was an issue that Narayan worried about. We proceeded with caution. Mardi Himal quickly became a trek whose end destination did not matter. We were enjoying the views and played like children along the mountain ridge.
This is what I truly appreciated with this trek. The diversity along this long stretch along with magnificent views is unsurpassed. It reminded me a little of the Everest Base Camp trek once you climb Kala Patthar. But the diversity reminded me of the epic Annapurna Circuit Trek.
For a short trek Mardi Himal has got it all
We made a quick decision at the top. We'd go back to low camp in one single trek after lunch.
This is where my two treks to Mardi Himal differed again, greatly. Coming down from Base Camp to low camp for the night was perfect. Only on my second trek with the Russians this did not go to plan and ended roughly.
Bad Russians on a great trek
I do thoroughly recommend you spend a night in low camp. It's beautiful views are great to see at sunset and sunrise. On the second trek we reached low camp as part of a group with Russians. Unannounced, the Russians decided to speed their trek up by a day to save one day's payment to our guide. One of them didn't even come with us to base camp. Instead he stayed at high camp and prepared lunch for his friend. Before we even arrived back they'd taken off!
Reaching Low Camp I was looking forward to spending the afternoon enjoying the views and relaxing after the mornings activities at base camp. The Russians wanted to continue on and save money by reducing the trek by a day. And this is the true problem of trekking with an unknown group.
I was outvoted and they elected to continue on down to Sidhing on the same day. There wasn't even a second night at Forest Camp that I wanted. This was an all out rush to finish up a day ahead of schedule.
Narayan was now stuck with two clients who wanted two different things. He did the best he could and hired a porter to help me as I ate lunch and he went ahead with the rushing Russians.
Early Monsoon downpour
To make matters worse the clouds were coming in again. It was not monsoon season but the Annapurna's can often get rains in the afternoon. Today was no exception.
I was with Salik, a porter-guide, I knew quite well. We began the steep decent through a forested area just as the rains began. It wasn't long until our rocky moss covered trail became slippery as the heavy downpour drenched us within minutes.
I had a raincoat but in this type of downpour it meant little. Salik and I stopped and began the process of wrapping our wallets, phones, cameras and other perishables in plastic bags. This was going to get messy.
The trail down was extremely steep at some points. My knees felt the strain as we jolted between rocks to avoid streams of water pouring down the mountain. It was impossible to take a photograph as my camera would have never functioned again. The rain was so heavy it hurt when there was no tree cover.
We trekked in the downpour like this for 5 hours.
Arriving into Sidhing at dusk the Russians who were ahead by an hour had somehow missed the worst of the rains. They'd also managed to use up all the hot water. Worse yet they wanted to leave at 4am to get the first bus back to Pokhara.
I was none to happy.
Again, the above is what happened on my second trek to Mardi Himal. Great adventures going up but two different scenarios coming down. This is the difference when you join a group vs going it alone or with friends.
By far the best route back is to spend the night at low camp and leave for Sidhing the next morning (or if you like corn bread head back to Forest Camp!). Spend a night in either and then head back the next day to Pokhara.
Day five (the final one) is next, meanwhile … do check out my online guide to the Mardi Himal Trek.
If you just arrived at this page then here is the full list of the Mardi Himal Base Camp Trek details:
---
Get the best Trekking guide book to Nepal!
---
Liked this page? You'll love my guide book to Trekking in Nepal! It covers over 28 treks in detail including:  Everest Base Camp, Gokyo Ri, Three Passes, Langtang Valley, Gosaikunda, Ganja La, Manaslu, Tsum Valley,  Annapurna Circuit, Annapurna Base Camp, Annapurna North Base Camp, Mardi Himal, Ghorepani Poon Hill, Khopra Danda, Mohare Danda, Muldai, Dhampus,  Panchase, Dhaulagiri, Upper Mustang, Nar Pu, Muktinath & more. Plus popular day hikes including Shivapuri,  and Kaskikot. With day-by-day detail trekking details along with photos of what to expect, extensive preparation chapters, budgets, where to find a trekking guide plus the costs & much more!
It's only guide book to Trekking in Nepal with color maps that you zoom right in with!
The book can be read on tablets, laptops or mobile devices & is printable. It's also available in paperback with full color print. Quite honestly this will help you more than any other guidebook to get the most out of trekking Nepal.