A mother goddess statue in Kirtipur
Have you ever visited a place and had a guidebook say something is there but it's not. Or maybe say something that's inconclusive about an object like "nobody knows".
A little bit of research goes a long way. That's the purpose of a travel guidebook. You are buying research and knowledge to help guide you in travel.
I know a lot of people might not have an interest in the nitty gritty of culture or heritage or what mountain is that far distant one. But, I do feel some of the more nonchalant travel writing these days is not particularly helpful.
You'll often see guidebooks make a quip or humorous note about things they don't know about. To me, it's just a lazy approach.
One such occurrence has bothered me for years. The Dhartimata or mother goddess statue in Kirtipur in Kathmandu.
Kirtipur is a treasure trove of culture for independent tourists
I've written about visiting Kirtipur before. And I've an online travel guide about Kirtipur. So I'll skip the whole "you should visit Kirtipur" bit. Other than to say if you want to get away from the crowds, package tourists and see some virtually untouched Newari culture that's 20 mins from Kathmandu, go!
Located around the large Bagh Bhairab Temple complex are many interesting shrines. It also has one of the best look out points across Kathmandu. The temple itself is also fascinating and unique, but we'll save that for another day.
In an alcove in the far south east corner wall is a shrine (statue) to the Hindu mother goddess Dhartimata.
First things first. The Dharitimata statue is not the one referred to in one book as the statue located in a white shrine near there. That contains a statue to Ganesh (the elephant headed deity) which looks nothing like Dhartimata who is a woman depicted as being in the middle of giving birth!
Who is Dhartimata?
Dhartimata or Dharti Mata/ Dharti Mai is a Hindu mother goddess who supports the earth. She is often associated as being the consort of Thakur Deo (a god of village land and surroundings). Pregnant women will often pray to her for a safe delivery and for a healthy baby. Many women will even give birth on top of the statue (it's a flat stone statue – though the one if Kirtipur is up on a wall so it's not really feasible at this location). Animal sacrifices are also made to Dhartimata.
It is here on a Saturday morning you will find a queue of pregnant ladies or indeed ladies who wish to become pregnant queuing up to say a blessing by the statue.
If you are here during the rest of the week and come across some tourists, particularly from India, you will often find them going to the wrong shrine – the white one with Ganesh. The shrine is quite dark and difficult to see inside. Many will use a torch, go inside and come out reveling in the fact that it's Ganesh and not Dhartimata!
They'll then go off and finally find Dhartimatta in the lower corner. Hence one of the importances of using a good guidebook!
What is Dhartimata giving birth to?
The second slight another guidebook uses in describing the Dhartimata statue is that they don't know what the mother goddess is giving birth to …
The answer is actually quite reasonable: the Dhartimata statue is shown to be giving birth to a baby with their hands pressed together overhead in the Namaste position.
One just has to look at the statue to see this. Granted the statue of Dhartimata in Kirtipur is often covered in vermillion and flower petals which are used in blessings. But, one can still make it out. Moreover there's more than one Dhartimata statue in Nepal where it's quite clear what she is giving birth to. The other is in the courtyard for the  Kankeswari temple in Kathmandu. It's currently under renovation but you can visit by following the Maru Tole walk in my guidebook to Heritage Walks in the Kathmandu Valley.
It takes time to research things correctly …
In Nepal it's not easy to always get a straight answer. Big commercial guidebooks don't often have the desire, time nor budget to re-research things or even give the go ahead to a travel writer to find such things out in the first place.
Moreover many generic guidebooks have editors and so forth that might want to "lighten" things up a bit with humorous antidotes etc. That's all well and good, but it's also possible to do this and have some facts to back things up too.
Again, I'm thinking of the Indians being pointed to the wrong location. And, quite frankly the making humor about a deity might be deemed by some as offensive in todays Politically Correct world.
I did a lot of research in Kirtipur. The people there are great and take a lot of interest when you ask questions about the place. But many are dedicated to their own religious beliefs. The Newari for example will often have local community or family deities. Those old priests and caretakers have a lot of knowledge and it takes time to understand them.
This includes the amazing collection of shrines around the Bagh Bhairab temple and in getting confirmation on the Dhartimata statue. Yes, that's a self pat on the back. And why not, it took some research to get things correct!
Sufficed to say, I've included all the correct information about the Dhartimata in my own guidebook to Nepal since day one.
---
Get my Guidebooks to Nepal & discover more than anyone else!
Looking for more insider tips and information like this? Get the most up-to-date, popular and dedicated guidebook to Nepal in the world. Over 617 pages & 984+ photographs of every temple listed, daily guides on all the treks listed and so much more.
Take a look below and you'll find out why this beats all other guidebooks!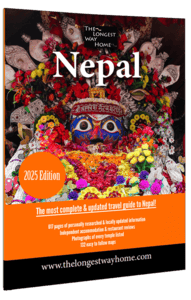 Or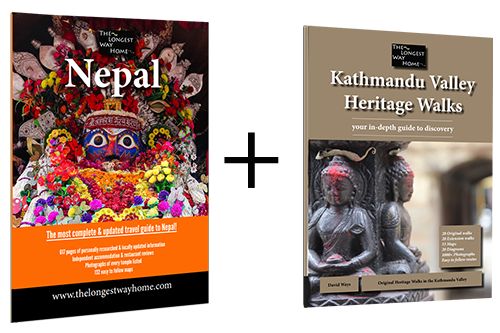 You can get 50% off my Nepal guidebook by getting it with the Kathmandu Valley Heritage Walk book