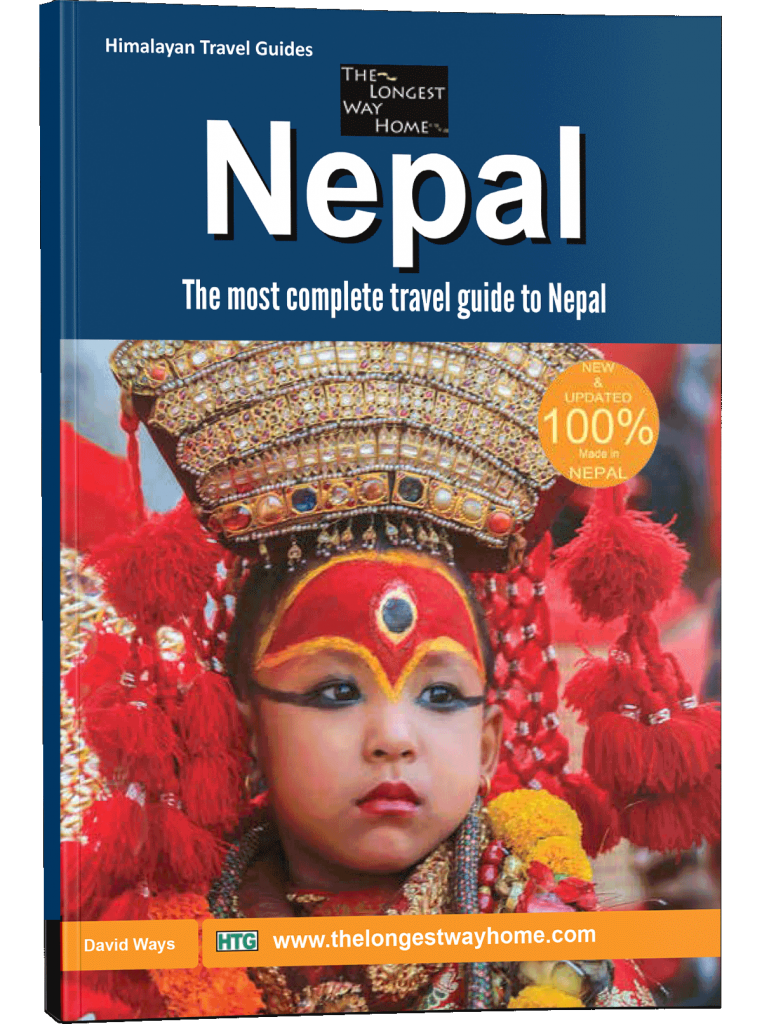 The best print edition guidebook to Nepal has arrived!
The latest book in my Nepal guidebook collection has been published in print with the release of Nepal: the complete guidebook (print edition) 2019. The book is published by Himalayan Travel Guides and 100% printed in Nepal by Nepali people.
The first 2017 edition completely sold out in mid 2018! It also outsold and got better reviews than the big brand guidebooks in Nepal. That's quite an accomplishment. Now in 2019 there's a new edition of the best print guidebook to Nepal! Just like my digital PDF guidebooks it includes the most update great travel information to Nepal plus some extras that no other guidebook has.
Nepal is both a gateway to trekking the Himalayas but also a magical place of unique living heritage style temples and adventurous wildlife filled jungles. It's a country I've lived, studied in and traveled for over 10+ years. During this time I've always believed Nepal deserved a better guidebook that was custom made for travelers who come here.
I want travelers to discover the undiscovered in Nepal
This guidebook has been written with real travelers and tourists in mind as a priority. Nepal's intermittent electricity, slow WiFi, remote areas and bad road infrastructure can make things hard for a tourist. This paperback book addresses all this plus shows you how to use it to your advantage as you travel.
My guidebook is fully up to date for 2019. It's a comprehensive 566 pages but made from lightweight tough recycled paper so it fits in your bag or cargo trousers/shorts pocket with ease. All without getting damaged or weighing you down.
Do you remember the great print guidebooks of 15-20 years ago? Well, I liked them. Lightweight, full of practical information, no hidden sponsored content and the paper felt great. Then it all became commercial. I've reversed all this by taking the best of the past, creating the presents most up to date information and giving readers the best insight into the future of Nepal.
With all trekking routes containing day-to-day descriptions, independent do-it-yourself heritage walks following every temple photographed along the way and wildlife safaris explained in detail, this is the type of guidebook I've always wanted for my own travels in Nepal for years. This paperback guidebook now lets you explore Nepal like never before!
This paperback guidebook was specifically designed from a tourists perspective to help you discover Nepal like no one else.
Why does Nepal need a new paperback guidebook?
I've been publishing the worlds best guides to Nepal online for over 10+ years and publishing guidebooks books since 2014. Many people have asked for paperback versions of my guidebooks. With a paperback book there's less worry about carrying electronics, less eye strain and to many a paperback book simply feels better when traveling.
For a such a small country Nepal is an epic but challenging destination. There's the majestic Himalayan mountains to trek. Unique living heritage sites that stretch across the countries middle lands. To the south are magnificent jungles filled with thriving wildlife that you won't get anywhere else in the world. With this hardcopy guidebook in your hands you will be able to explore these places like no other person in the world.
Explore the Kathmandu Valley & beyond: From the Kathmandu Valley's fabled royal Malla cities and Rana palaces to winding stone streets that are like walking back through time. Discover when the very first mystical building (stupa) was created that overlooks the whole lush valley of the gods. There are more than just three former royal kingdoms in the valley which still look as they once did hundreds of years ago. Explore the grandeur of Bhaktapur, the old city streets of Kathmandu and artistic Patan.
But with this paperback guidebook you can now discover even more of Nepal with dedicated chapters to Thimi, Kirtipur, Bungamati, Budhanilkantha, Gokarna, Changu Narayan, Nagarkot, Panauti, Dhulikeil plus everywhere in between these areas.
All this in just one section alone. Plus new hotel reviews for all budgets along with new restaurant reviews and transportation maps/fees, trekking agencies and where to go shopping. All reviewed in a frank and ethical way!
I never except payment for any review or inclusions so you the reader always get the most honest and independent advice in the world.
Trek better in Nepal: The epic Himalayan mountains of Nepal are one of its greatest tourist attractions. My best selling book first time trekking in Nepal is included in full with this print guidebook along with hill hikes and walks. These include Everest Base Camp, the Annapurna Circuit, Annapurna Base Camp, Mardi Himal, Poon Hill along with short treks and a host of side treks.
Exclusive to this paperback guidebook are duel maps!
I'm proud to say that once again you'll have both my personally cross-referenced-GPS maps plus Himalayan Map House's award winning trekking maps which are used for the Great Himalayan Trail.
Not only that but as always there are detailed chapters for first time trekkers on trek preparation, where and what equipment to buy, where to find a guide in Kathmandu and Pokhara, how to choose a guide, independent reviews of trekking agents for each region, monthly weather reports and so much more.
I've trekked every trek written about in this book more than once and I've made it a point to bring you the very best trekking experience using this paperback guidebook.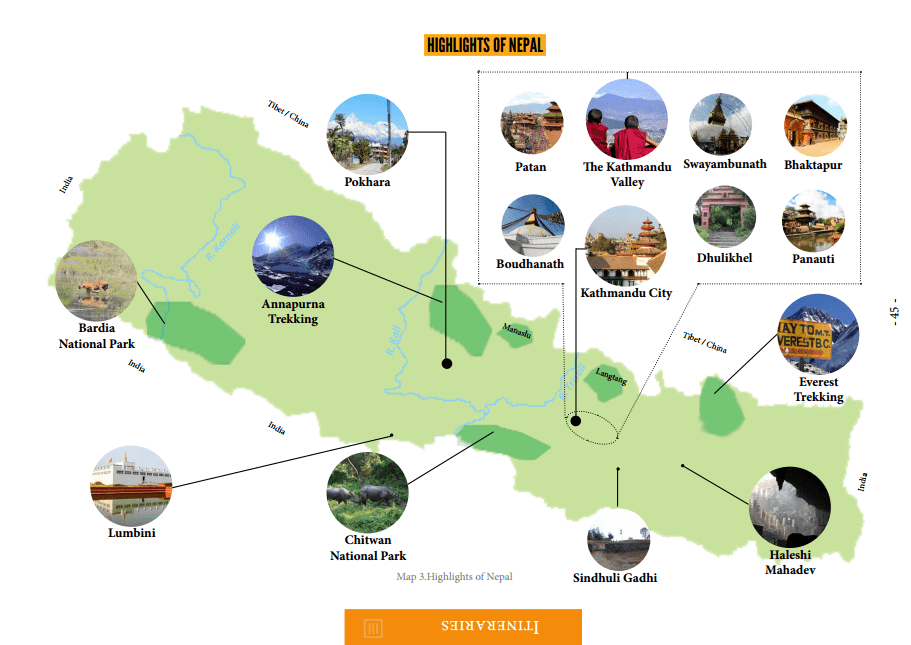 Get more out of the resort town of Pokhara: Nepal's lakeside resort location offers more for people than just what the generic guidebooks write. Yes, Pokhara is right beside the scenic Lake Phewa with the Annapurna Mountains gazing down on it. But this road running along Lakeside also has a blossoming selection of restaurants, cafes, new hotels and dozens of travel agents.
This guidebook will take you further past the quiet Damside area all around to the new budget hangout of Happy Village. Plus, discover new outdoor activities in Pokhara by taking independent day treks, hikes, nature walks, paragliding, horse rides, mountain biking, motorcycling, skateboarding, boating, water balling or simply go to visit the Tibetan artisan camps to buy carpets or locally made jewelry.
There's more to Pokhara though. I've also included details on Begnas and Rupa lakes for those who want some remote lakeside time along with more day activities to help you make the most out of your trip than you'll find anywhere else. Quite simply, everything to do in Pokhara is included in this book!
Jungle Adventures in Chitwan National Park: Nepal's first and most popular national park. Made famous by its royal Bengal tigers, world renown elephant and wildlife conservation, successfully protected one-horned rhinos plus hundreds of other wild animals.
In this paperback book you'll discover why and how to avoid the expensive package tours being promoted for Chitwan. Avoid package tours to save double with the best transport options plus hotel and jungle tour reviews. This print guidebook will help you plan your trip to Chitwan with ease but also shows you how to save a lot of time and money.
Go off-the-beaten-path in Bardia National Park: For a truly wild wildlife experience you won't get better than Bardia or Bardiya as it's known locally. Forget busy tourist trails packed with commercial outlets. Head into a jungle with just a guide and a porter to spot royal Bengal tigers in the wild. This is no safari park. Bardia is the real jungle, so be prepared – by reading this book first.
Elephants, rhinos and tigers are truly in the wild here so caution must be taken because this is as real and thrilling as it gets! This paperback book contains the best chapters to Bardia National Park, how to get there and how to explore it all safely!
Discover the Spiritual Center of Lumbini: The birthplace of Prince Siddartha who became the Buddha is right here. With over 20 Buddhist monasteries to visit from around the world built around one zone this book takes you to them all. What's more this is the best print guide book to Nepal that shows you how to get to Lumbini easily along with up-to-date reviews of hotels and restaurants plus brand new Terai village walks.
While Lumbini should be all peace and meditation it's actually quite a rough place. I don't mince words here. This book will help you make the most of your trip while not being disappointed and getting around easily.
Explore the Unexplored in Eastern Nepal: Discover places not mentioned anywhere else. From the ancient fort of Sindhuli Gadi via an epic road or helicopter trip to the last sacred Hindu and Buddhist caves in Nepal in Haleshi Mahadev. These chapters are really for those who want adventure in Nepal. No other guidebook to Nepal in the world covers these locations.
These are just the highlights of my print guidebook to Nepal … Each chapter has been personally written with detailed maps, photographs and step-by-step guides to every location. Quite simply:
this paperback guidebook to Nepal is the best in the world.
What makes this guidebook so different from the rest?
A good question! Take a look at the sample pages here. As you can see it's all written in great detail but with ease and a focus on factual reality. There's more to Nepal than just the big highlights – which I also cover. However, I don't mince words about what is good and what is not-so good. From historic temples to mountain treks and green jungles everything is written with the unique perspective of putting the travelers experience first. Don't feel bad about skipping things if it's of no interest to you. Spend more time doing and seeing things you really want to do and see! I detail everything with easy to use maps, over 900+ helpful photographs and exclusive DIY heritage walks & treks!
Nepal's living heritage buildings are fascinating but under severe threat from congestion and traffic. In this book I show you how to navigate these streets with less traffic hassle while finding every temple using over 500 photos from the Kathmandu Valley alone. I do the same for jungle trips and treks!
It's a system that works. The feedback from tourists using my books over the years has been fantastic.
"There's are no other guidebooks like these in world, they made our trip!"
Ellen from New York, USA.
As an example you can easily discover different aspects of the real Patan Durbar square from romantic sunsets to the stunning golden temple and even get the chance to meet a Living Goddess. No other guidebook shows you so much so easily. Mine does.
Stay in the former royal capital of Bhaktapur with photographs of every temple at your fingertips as you walk around ancient stone steps that haven't changed in centuries. It's also nearly finished reconstructing all the temples since the earthquake. But before you go, stop off at the township of Thimi on the way. A place untouched by tourists as it was abandoned for tourism over 30 years ago. It's like walking into another world. Explore these places in a way few other tourists ever will with 100% original maps made to help you get around easily.
Trekkers can delight in the day-by-day explanations of where you will be going and what to see on the way. Before that find out how to hire the best guide for your trekking region, when to go and where to get your equipment in Nepal. Discover new routes and treks with award winning duel maps included in this print guidebook.
This print guidebook to Nepal gives you real insider information on travel in Nepal from places like the new main bus park in Kathmandu to the new taxis and bus services on offer.
There's so much more …
Every temple, trek and jungle location has been photographed and included on a map (110 maps)
I've created detailed heritage compound diagrams showing you temple and shrine layouts used by the Digital Archeology Foundation
Buildings and temples currently being renovated are marked out along with exclusive "next to be renovated" information to help you plan ahead better
Duel maps give you more options than any other guidebook to get around
Naturally there's extensive historic, pre-trip preparation, transportation and culture chapters
Easy to follow DIY independent Heritage Walks
Designed and printed with new recycled high-grade lightweight paper in a size that's easy to carry around
100% made in Nepal by Nepali people
Table of contents: + 566 pages, 110 maps (including extra Great Himalayan Trail city & trekking maps), over 908 photos
What else is inside this guidebook for you:
Virtually every area of the Kathmandu Valley covered from Thamel, Paknajol, the old southern city streets, east Kathmandu, Freak street and the markets, Boudhanath Stupa, Pashupatinath, Swayambhunath (monkey temple), Patan (Lalitpur), Bhaktapur, Kailashnath Mahadev, Panauti, Thimi, Kirtipur, Dhulikhel, Bungamati, Budhanilkantha, Gokarna, Godavari, Changu Narayan and Nagarkot
Go outside the Valley to the ancient fortress at Nuwakot or on to the cable car at Manakamana or Bandipur
Explore everything there is to do in Pokhara from paragliding to meditation, pony rides and day hikes
Visit the jungles of Nepal with an easy trip to Chitwan or a take a more adventurous journey to Bardia
Trek into the great Himalayas by discovering what it's really like up there along with all the preparation needed
If you are short on time in Nepal then find day hikes to see Everest from Nagarkot or Dhulikhel
Exclusive highly detailed courtyard diagrams showing you were everything is with ease
Independently visited and reviewed accommodation for all budgets (high-end, mid-range and budget)
Independently visited and reviewed restaurants for all budgets and tastes
How, what and where to shop for souvenirs, jewelry, tea and more in Kathmandu & throughout Nepal
Send things home with contact details of recommended courier & postal companies
Transportation details from arriving into Nepal to taking local or private transport throughout the country
Up to date visa information, visa extensions and overland border crossings
Exclusive lists, reviews & contact details of recommended trekking agencies for all regions
Travel to Tibet overland or by flight (includes a list of tour operators)
Great preparation chapters to read before visiting Nepal
Explore east Nepal with the only guidebook that covers the region properly
Find out about volunteering in Nepal
Learn about the vast cultures of Nepal along with religion & faith in Nepal
Practice basic Nepali language
This print guidebook truly is the complete guidebook to Nepal!
this print guidebook to Nepal is the only one in the world that will show you a photograph & explanation of every temple on the map!
100% original well researched information about traveling Nepal
I've read every guidebook to Nepal. Some are no more than copy/paste versions taken from other sites. Others are generic and not written specifically for Nepal. This 566 page print edition guidebook to Nepal has been written, mapped, reviewed, photographed and created with the travelers heart in mind.
This book is 100% ethical & genuine with original content written specifically for travelers like you
I personally visited and reviewed over 615+ hotels, guesthouses and everything in-between throughout Nepal.
I don't, nor have I ever, taken sponsored trips, hotel stays, meals, gifts or money in exchange for reviews. This way you as a visitor to Nepal will read and get exactly what I experienced at a hotel, trekking company or in restaurants.
It's a well known fact that many people take sponsored trips to travel the world and then write about these places. I don't believe that this is the best way to give readers the best experience when they purchase a book.
Trust is important and it's one of the main experiences you'll get with this print guidebook to Nepal. Everything is written as you will experience it! No flowery language about things unless something deserves such a mention.
Which is better, the print edition or the digital edition?
It depends on what you prefer. But rest assured, both books have the exact same great content.Though the paperback version has additional trekking and city maps from Himalayan Map House and a note taking section at the back!
For those traveling long-term who don't want to carry a book for every country, or for those who enjoy bringing technology with them on holiday, then my digital guidebook to Nepal is the best option.
However, for many people a guidebook to Nepal in print is the perfect option. Nepal is an adventurous place so a paper guidebook still feels safer to many in their hands than a phone or tablet.
With a paperback guidebook there are no worries if it rains on the book or if it falls on the ground. There's also a traditional note taking section at the back of the book so you can add your own information or jot down travel notes along the way.
I understand that many people visit Nepal to get away from phones, tablets and tiring screen glare. This print edition is your perfect solution.
There's a wonderful leisurely, learning pleasure about Nepal that makes a print guidebook, for many, the best way to experience the country.
Ultimately, the choice of digital or print will be yours – now you can have whichever you prefer!
Includes places & options not included in any other print guidebook!
Every aspect of this guidebook to Nepal has been designed to improve upon other print books.
It is the first and only guidebook to include eastern Nepal's Haleshi Mahadev and the ancient fort at Sindhuli which sparked the very formation of Nepal as we know it today. It also includes many budget travel options all the way to luxurious executive travel.
Every chapter describes places with far more information and interesting notes than you'll find anywhere else. Even places like Thimi or Panauti are given dedicated chapters and not just short paragraphs.
This is the only guidebook to Nepal printed on recycled paper!
This is the only guidebook with duel maps to give you the best options in getting around.
I wanted this second edition paperback guidebook to be published and printed in Nepal. It is published by a Nepali company (Himalayan Travel Guides).
It was also very important to me that this second edition print guidebook be printed in Nepal by Nepali people thereby continuing to directly help with local employment, sustainability, empowerment and pride.
We've all worked hard to create the best, lightweight, tough guidebook which also has a price that beats any other guidebook in local stores throughout Nepal!
We include the price of worldwide shipping in the total online price so there are no extra surprise costs!
For those in a rush, there's an express delivery option and an in-country delivery option.
I want you as a traveler to Nepal to experience and make the most out of your trip to Nepal. I want you to explore Nepal better than anyone else. With this guidebook you can!
This is Nepal's best paperback guidebook
This paperback guidebook to Nepal has been written by a traveler, tested by local Nepali and other travelers LIVE on the streets, mountains, jungles, flatlands and cities of Nepal in 2019 and is now available to everyone worldwide. It has been 100% printed and published in Nepal by Nepali people.
It's currently on sale in all major bookshops throughout Kathmandu, Pokhara and ships worldwide below.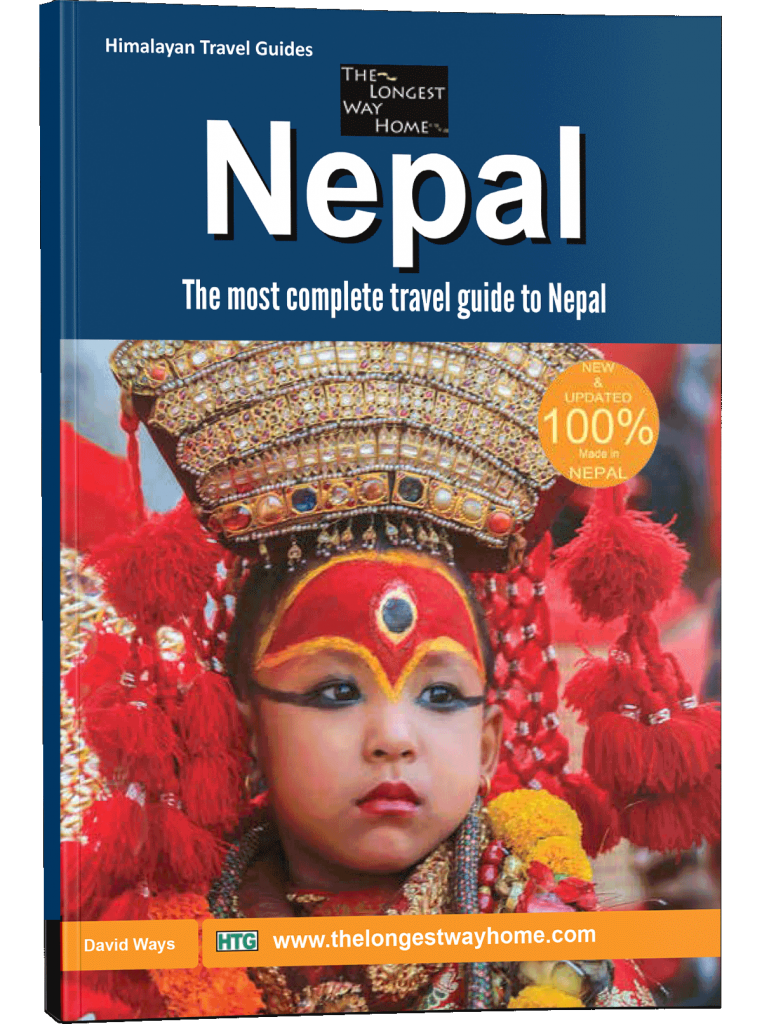 (Email subscribers please click here to purchase)
All Himalayan Map House bookshops in Thamel, Kathmandu are currently running a 10% discount if you mention this website to them and ask for the discount at their checkout till.
For readers ordering right here the price includes worldwide shipping!
More details and to order now see – Nepal guidebook (paperback edition).