by Dave from The Longest Way Home ~ September 17th, 2012. Updated on February 8th, 2016. Published in:
Travel blog
»
Nepal
.
An elephant safari is probably the biggest single attraction at Chitwan National Park
Come to Chitwan national park to experience an elephant ride into the jungle in search of rhinos, tigers and other wildlife.
That's the sales pitch. And for the most part it's true. There are elephant rides. It is a part of the jungle. You will see wildlife. There are rhinos and tigers to search for.
NB: Here's an article for those wondering if elephant tourism is ethical in Nepal.
The reality on the ground is that 75-80% of people have a great time. However there is still a large percentage remaining who don't have such a great time. Waves hand.
There's also the whole ethical debate on elephant riding and the ecological side of even being anywhere near this sort of environment (more on that in the next post).
Follow me on several Chitwan elephant safaris to find what can go wrong, right, how to make the most of it and ultimately if it's the right thing to do or not.
What's on offer from an elephant jungle tour in Chitwan?
I went to several guest houses, tour agencies and the official park HQ to find out the best options for an Elephant jungle safari. Surely there would be some choice and different routes etc. If you've read my Suaraha tourist town article you'll know there isn't that much of a choice here for independent travelers. But it didn't stop me from trying to find the best tour on offer.
Flowery language and offers aside this is what an elephant jungle safari is like in Chitwan National Park
Elephant safaris occur at dawn, late morning, post lunch and late evening.
Pick up from your guesthouse – either by elephant or jeep to the entrance. If your hotel/guesthouse has an elephant docking station then there's a good chance the elephant will pick you up.
One hour to one hour and forty-five minutes atop an elephant (government elephant tours are shorter).
Elephants carry 4 people on a wooden frame on their back. You sit on each seat with the corner post between your legs. A mahout (elephant rider)  sits in front above the elephants neck. It's not the most comfortable of rides.
Be prepared to see the elephant handler whack your elephant with a sharp metal pole (cheru kol) to control it.
You will leave from a giant elephant parking lot with lots of others.
Mahouts will take the elephants around one of several set paths in a section of Chitwan National Park which is actually just outside the parks inner boundaries (not including government tour).
The route is often dictated by where the mahouts "think" the rhinos will be.
You are never allowed to leave the elephant until back outside the park.
It's all quite safe even if/when you spot rhinos. Though if two elephants like each other it can get a little bumpy as they run to each other (fun).
How much is an Elephant safari in Chitwan National Park?
It depends on who and how you buy your ticket. Please read my travel guide to Chitwan national park to understand the ticketing system in full. Basically you are paying for a park entrance fee and one elephant ride.
Park entrance fee is 500 rupees for a (westerner) 200 SAARC and 50 for Nepalese.
The elephant safari price is 1000 rupees for a government elephant ride. And then between 750 and 2000 rupees  for private elephants from guesthouses and agents. Basically the more expensive your hotel then the more you'll be paying for a safari.
Can you save money on an elephant safari in Chitwan? Yes, read on.
Avoiding to buy another Chitwan National Park ticket for an elephant safari
Just back from my jungle safari trek, Ali my guesthouse owner said there was no problem in using the same Chitwan National Park entrance ticket the next morning for the first Elephant safari. Normally the park entrance ticket is for one day and no more.
But there's an unwritten rule that you can buy a park ticket in the afternoon go on an elephant safari that afternoon/evening and use the ticket for a full day of trekking/touring etc, the next day.
In my case Ali bought the ticket, I did a full day jungle trek and then the next morning could take an elephant safari. It seemed more complicated to arrange than the above. But he managed it.
The start of an elephant safari
By seven(ish) a.m. my elephant arrived with his mahout. I climbed up a ladder above Ali's office onto the roof and gingerly made my way onto the Elephant's large wooden seat. It took some slaps from the grouchy mahout before I understood my legs were to go around one of the corner legs of this large seat rather than beside them.
Finally seated up front we were lumbering off at a fairly quick pace scaring the odd early morning cat, dog and school bound child making their way peacefully along the sealed road. Aside from a mahout who was in no mood to be pleasant I felt great.
A bad elephant safari gets worse
That is until we pulled into a rather more upscale guesthouse and a rather overweight young Indian boy guzzling all manner of sweets post breakfast appeared with affluent parents in tow. The child of about twelve immediately started having issues about boarding the elephant.
He simply refused to climb onto the elephants seat – a task made harder by not letting for of his bag of candy.
I did my best to reassure him with a smile. An offer of an open hand of peace. All to no avail until finally the mahout nudged the elephant back a little and I was able to yank him on.
After all that fuss his large aunt and uncle finally appeared. Now, apologies in advance if this sounds offensive but these people were wealthy Indians with no manners whatsoever. I've met the type before and have no patience for them. The overweight boy wriggled in beside me and immediately began shouting " Tiger, Tiger" loudly at every moment he could as we lumbered off. Pushing up against me whenever possible I shuddered at how all this was unraveling.
My elephant safari was already over. Not without a fight though. After several attempts at asking him to keep the noise down it finally took 3 sharp elbows to the boys ribs before he finally learned not to wriggle, lean against me or shout "Tiger Tiger" loudly at the mahout every few minutes.
The fastest Elephant safari in Nepal
We entered the park along with seven other elephants. Instead of enjoying the tranquil experience I'm afraid to say we bolted around from "viewing" areas to viewing areas at haste with squealing ever wriggling "Tiger, Tiger" boy in tow. Finally coming across two rhinos taking an early morning bath.
Naturally enough my overweight seat partner squealed "Tiger, Tiger" loudly enough to make the rhinos want to walk on. An even sharper elbow was inserted the second time this happened and silence followed just long enough to take a photo.
We then came across a deer which was equally startled by this boy's obsession with "Tiger, Tiger" shouts and so darted away. At this stage I admittedly lost the plot and very loudly replied that if he did not shut up he might scare the elephant and end up being pushed off onto the ground where the "… tigers will get you!"
There was a rushed babble of hindi from his relatives behind me and he was a very quite boy from then on. But the damage was done. What's more I found we were already back at the park entrance after only an hour.
I was throughly disappointed.
Getting a better Elephant safari
Normally I'm not a big complainer after purchasing something that is sub par. But I find the older I get the less I can put up with in terms of value for money and not getting what I paid for. Upon returning to my guesthouse I relented and went in search of Ali to complain about the mornings elephant safari. To my surprise instead of brushing it off Ali took action. He was more shocked at the one hour time frame than anything else.
He called the mahout on the phone. Yes even mahouts have cell phones these days. Unfortunately he was on the way to a "union meeting". Ali reassured me that he would get this sorted and committed to offering me another Elephant safari that afternoon.
True to his word that afternoon a jeep arrived and both Ali and I drove off to the park entrance. The last safari was mobbed with tourists plying out from buses. A far cry from the morning's meager and near tranquil seven elephant ramble I was witnessing tourist atop elephant traffic jams nearing around twenty in number.
I thought the worst was going to reoccur. But I was wrong.
De ja vu elephant safari
Taking no prisoners this time I pushed my way past all manner of tourist to position myself at the front of a new elephant. And just like last time was soon followed by two Indian tourists. I saw Ali stare over in horror after what I'd told him happened that morning.
This time was different though. The Indians were a lovely couple from Delhi. Pleasant and well-mannered I felt embarrassed at having pushed and shoved my way passed them earlier. So much so I told them about my morning debacle.
They commiserated and we kicked off our jungle safari with some jokes about the mass of tourists surrounding us as if to make light of it all.
What follows next was a much better experience …
---
Planning a trip to Chitwan? Check out my guide to Chitwan National Park. It includes, maps, prices, accommodation, things to do and much more …
---
Get my Chitwan Guidebook to learn more about Nepal's most popular jungle!
The most up-to-date, popular and dedicated guidebook to Chitwan National Park in the world. Take a look below and you'll find out why!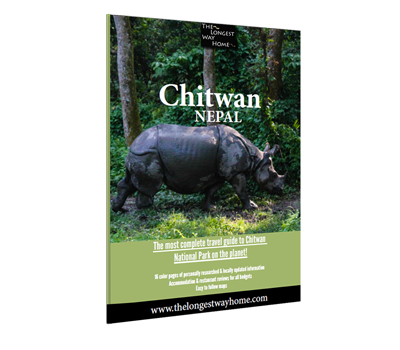 ---
---
---