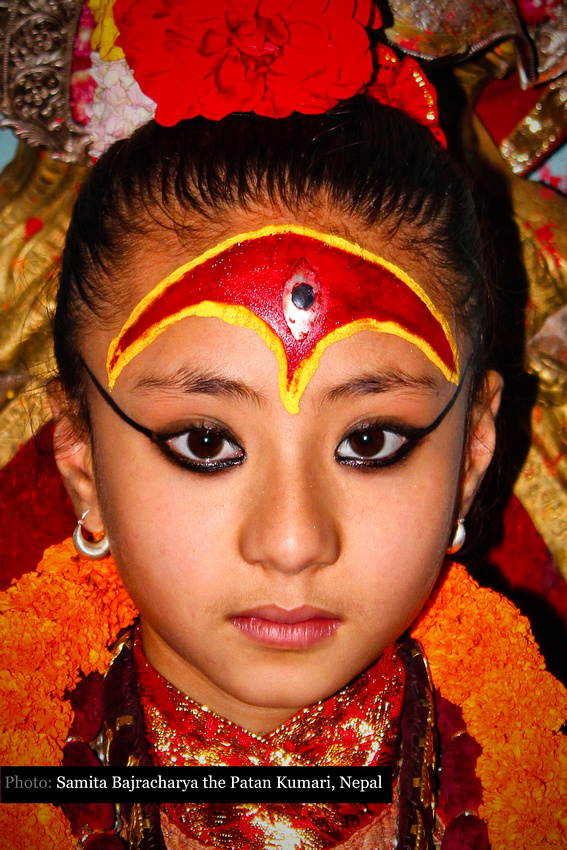 When a girl becomes a Kumari goddess …
My first quest in search of the Kumari was filled with my hope and desire to simply find a legendary person that had alluded me for years. My second hope was to meet and photograph the Kumari. I accomplished this yet at the same time failed when I realized that I was in front of a small child that could become a "tourist attraction" much like the unfortunate fate of the Bhaktapur Kumari several years ago. However in turn I received something else that was perhaps far more valuable which stood by all of us.
When confronted with meeting the world's only living goddess I saw something that touched my heart. I saw a little girl called Samita shouldering the weight of a cultures legacy, history and responsibility.
While getting to know the family, I returned to Samita and their residence at the Kumari palace thereafter many times over the years.
The Kumari is not allowed to speak to anyone other than her advisers or family. Throughout all my visits I spoke to her only through her family.
This is that story.
Samita's life as a Kumari according to legend and fact
The goddess Taleju lived within the body of Samita. When Samita becomes a woman and has her first menstruation the goddess will move on and Samita will once again be a regular person. Albeit with a historical past.
The Kumari is not allowed to leave her residence unless for official ceremonies and her feet must not touch the ground.
The Kumari's current schooling is different from many other Kumari's from the past. Today she is taught via a private tutor so keeps up-to-date with her former classmates curriculum.
Someone even donated a computer to her residence. It was not connected to the internet more from a lack of funds and knowledge than access. When there is electricity Samita watches an animated series, an occasional movie and of course there is some educational software installed. Later the computer would be substituted by a smartphone.
A Kumari is never to leave her house
Living inside the Kumari household she can only leave on ceremonial occasions. Even then, when the Kumari leaves the house, her feet may never touch the ground.
Luck was with me on my first visit as when I asked when would the next official ceremony be taking place. Her parents told me there would be one in a few days time.
I asked if I could return and visit once more. I made it clear that I'd like to document the Kumari's life and get to know them all better. I was invited back to join the family prior to a ceremony in Patan. (Do read my travel guide to Patan)
How strange it is to tell the parents of a young girl you just met that you really only want to know their daughter better to learn more about the Kumari. Alas, I bear western cynicism. There were no issues of course. This was after all the Living Goddess. Who would not want to spend more time with such a presence.
In Kathmandu there were doubters though. How could I have been granted such a role. Such doubt was silenced when I was permitted to bring them as invited guests.
Photographing the Kumari
Being able to photograph the Kumari as her ritual make-up was being applied was a privilege. I will note here for the record that following this several national and international press would follow this story and try the same. Although I would find out later that these commercial professionals failed as I nearly did before in something much more important.
Perhaps this is the difference: I made a promise to a child. Someone that you will learn more about a little later.
Meanwhile I was to photograph the Kumari and publish the photographs here to show the rest of the world beyond Nepal what and who the Kumari really is. Behind the scenes however something much better was happening. First though, there was the ceremony to prepare for.
Applying the traditional make-up and dress of the Kumari
Samita was already seated on a large wooden chair when I entered with my Nepali friend who had come for a blessing. Expertly her mother tended to a make-up case that would be used to create the iconic agni chakchuu or "fire eye" painted on the Kumari's forehead.
Using only the daylight from an open high window the process began in earnest. Samita sat patiently as if this was nothing new. Yet unlike many other children her age she showed neither frustration nor boredom. She was already showing maturity beyond her years.
I sat opposite them and made a few lighthearted jokes. While her mother laughed Samita remained rigid and unsmiling.
It would not be proper for a Kumari to laugh.
With dark pure eyes like that of a fawn it was hard not to imagine them filled with the laughter of child. While there was an occasional sparkle, perhaps it was more in my minds eye, as the Kumari remained in full focus with the rights and rituals at hand.
The ceremonial dress of the Kumari
Make-up applied it was now time to don the Kumari robes. Heavy red garments weighed down with intricate gold embroidery. Then solid silver bracelets that clanked heavily were placed around Samita's wrists.
Following this weighty necklace after weighty necklace, each adorned with different symmetrical shapes, were draped around her neck like rested armor.
I joked to Samita that she must be very strong to lift all that jewelry and if it were me I would fall over. With that I pretended to fall off my chair with the fictitious weight of heavy necklaces.
Finally there was …
A child called Samita
Vast crowds were filling the ancient streets of Patan for the ceremony. I no longer wanted to photograph the Kumari there. I know Nepali ceremonies well and I know how crowded and rowdy they get.
Instead I watched from afar with my friend over lunch as the boisterous crowds gathered in the streets below. All the while this girl who is a goddess and the center of attention remained ever dutiful.
On their return to her residence I showed Samita's mother the photographs I'd taken from the screen at the back of my camera. They were all seen by others in the room with much jubilation.
By now there was a causal repartee so I asked her mother if there was anything Samita would like on my next visit. Words were exchanged between them. I remained on the outer circle and waited with intent as my ulterior motive came to task.
Had I proven my worth as a friend yet.
Samita's mother explained that of all the press, magazines and photographers that had visited her few, if any, had returned with the photographs they'd taken.
Something not to uncommon to hear from the life of travel I live. From my visits to this bare house there was indeed a lack of memorabilia save for a small school notebook with two clippings.
There was no questioning this. I promised to return with printed photographs.
Yet still there was a brief look of doubt in the room. Perhaps I was still thinking as a guest and not a friend.
I extended my promise by returning to the girl who is a goddess with a second promise which started with a question asking if there was a "girl" who could have another gift other than said photographs what would it be?
It took a while of family talk but the answer came from her mother.
"A Barbie."
Again there was no second guessing. I left with a third promise to return by a certain date.
Printing and presenting the photographs to Samita
In an old school photographers studio in Kathmandu a man clutched at a brown envelope.
"It's the best I've ever seen, you did well."
"Dhanyabaad" I replied.
There was an awkward silence for a while as the man looked around.
"May I display a copy?"
I paused for a while at this hushed tone before remembering the watermark. "Yes, you may."
The man shook my hand with no smile but with an air of respect. He was not Newari but he did hold respect for the custom of the Kumari. Something I found unusual among non-Newari Nepali. Yet among the Newari people themselves my growing knowledge and first hand experience lent towards deeper conversation at long last.
Later, on another side of Kathmandu, I moved further into the streets in search of what a girl would like in a country that does not produce nor at the time import children's toys. In one small corner store I found dusty shelves filled with random action men, plastic flowers, vases and toy dinner sets. Choices were indeed limited.
A girl's best friend
I returned to Haka Baha (monastery) that is a home where I had made new friends. I held the large brown envelope that contained the printed photographs large enough to take pride of place on a wall. A gift wrapped box containing a doll. And a small bag containing soaps, make-up remover and shampoo.
I can, but will not, explain the feeling of watching someone unwrap the gift of a doll and holding it in their arms. Of opening boxes of fragrant soap nor sniffing curiously with wide-eyed wonder at the scent of new shampoo.
What I can say is that at such a time in Nepal, seeing photographs of yourself being returned to you seems to bring about a sense of wonder and revelry.
It is when witnessing such a simple act as presenting a photograph that depicts such an unusual time in one's life that you get the feeling of helping to create a legacy. Not just for a family, but for a girl who may one day look back trying to recall their childhood years.
Later, I received my blessing from the goddess. It seems the man who traveled to many cultures preferred to show his worth before accepting such a privilege.
Samita's future
On my visits to Samita's home I asked of things like the internet, Facebook and school friends. One is aware of them naturally. And no doubt one will perhaps one day be able to participate in them as well. My website stickers placed on the back of the photographs will also, maybe, one day direct a girl I once knew as the Kumari to this place you read now. A place that is my home from home and my legacy.
I hope Samita approves.
Whilst here, the faint whispers of childhood memories might be rekindled for a young girl and her family. For surrounding Samita are a loving family that are there for her. To say her mother dotes over her protectively is an understatement. Once her time as a Kumari is over Samita will return to school under the guidance of parents who know their daughter well.
Nepal is changing, as is the life of a Kumari. Old tales are being replaced by modern dictates. I hope Samita's future will be that of the new generation of Nepali who will have access to and embrace knowledge. With this comes understanding and yet more questions. I am sure she will do well based on this her upbringing.
I do however fear in the near future the three main Kumari's will become permanent tourist attractions in Nepal. Seeing today's Nepal I have little doubt that this will indeed become fact. I wish it not to be the case.
And yes, I am aware that I too may have contributed to this. However, much like my first desire to never write about Nepal and keep it a secret from mass tourism. It is a foolish notion. Sooner or later this matter is bound to happen.
So my take on easing my conscious is to perform an additional role in trying to respectfully preserve some of this golden past.
My hope is that by publishing these articles people will learn the facts about the Kumari. Understand them and perhaps see beyond the goddess without being too critical of another culture. More personally I hope Samita and her family will have a keepsake they will remember when looking back on their years living in a Kumari household.
In retrospect, it tells a lot that many people from around the world have copied the information here or studied it for their own purpose without credit nor mention. Yet, I have remained friends with this family ever since. The value and honesty of some people is very lucid.
The future of the Kumari and Samita
Many years ago I wanted to find a legend. I returned to Nepal and did just that. I met a goddess and saw my own truth. I took effort and endeavored to favor not the goddess but the little girl who will one day re-emerge.
My hope is that she retains a child like genuine smile that will emblazon her angelic face once such a cultural duty has been removed.
As for the man who was humbled by this meeting. I finally received my formal blessing from the Kumari. I also have with me the blessing of meeting a little girl with a loving family in a home away from home.
(the story, did not stop here though. Read on to discover more)
---
Throughout this article I revealed to you snippets of my many visits to the Kumari. In doing so certain people might try to read between some lines. Let me confirm one thing for certain. The Kumari and her family upheld all the divine rights that the Kumari are obligated to uphold. In doing so I, as well as others, now have more respect for the Kumari, the Newari people, the Nepalese people and the country of Nepal. 
Since this story was first published many from the media have tried to copy it. Sadly, as they try to rewrite it, they leave out many essential parts about the Kumari. Further, several Nepali travel agents try to sell tours to see the Kumari. Please do not partake in these tours no matter how "community" focused these companies say the are. They are simply cheating the Kumari families by only offering token payments. As a tourist, you do not need a tour to visit a Kumari. Read on to find out how – or download my guidebook to Nepal for full details.
Read the full series here:
Part 1: In Search of the Kumari
Part 2: Meeting a Living Goddess: the Kumari
Part 3 (current): Samita Bajracharya the little girl who became a Kumari living goddess
Part 4: From Living Goddess to former Kumari & schoolgirl
Information: Facts on The Kumari of Nepal
Get my Guidebook to Nepal & discover more than anyone else!
Looking for more insider tips and information like this? Get the most up-to-date, popular and dedicated guidebook to Nepal in the world. Over 617 pages & 984+ photographs of every temple listed, daily guides on all the treks listed and so much more.
Take a look below and you'll find out why this beats all other guidebooks!